Marchioness Julia
Falleti di Barolo
Marquis Carlo
Tancredi Barolo

Blessed Enrichetta
Dominici
St. Ann's College of Education

is a Catholic minority Institution managed by the Congregation of the Sisters of St.Ann whose Generalate is in Rome. It is affiliated to the Osmania University and receives grant-in-aid from the Government of Andhra Pradesh.

The Sisters of St.Ann work in various parts of the world in Italy, India, USA, Mexico, Philippiness, Cameron, Brazil and Peru. It offers its services in Educational Institutes, in hospitals, dispensaries, homes for the aged, destitute and disabled, in social and technical institutes, in parishes, orphanages and boarding homes.

This college was founded in 1966 as the first aided college exclusively for women in the Telanga area. It began in a modest way being housed in rooms leased from St.Ann's School. With grants from the Dutch Foundation, CEBEMO and contribution from the management a large spacious and well designed two storey circular building was constructed in 1976. It has large classrooms, a student centre, a library and a reading room, two large laboratories for biological and physical sciences and a smaller one for psychology, a computer lab, a work experience room, an educational technology room, a dining hall as well as a prayer room in addition to the administrative block consisting of the Principal's room, office, parlour, guest room and staff room. The late Dr.Sr.Marie Antoinette (1966 – 73) founder Principal of the college played a key role in the establishment and development of the Institution.
Rev.Sr.Pia succeeded as Principal after Dr.Sr.Marie Antoinette for a period from 1975 to 1981. Sister worked to fuse spirituality with Science.

Rev.Sr.Sylvia D'souza was Principal from 1981 to 1995. Sr.Sylvia a dynamic Principal brought changes in teaching learning process through seminars, workshops, exhibitions and other collaborative methods.

Rev.Dr.Sr.Marlene was appointed as Principal of

St. Ann's college of Education

in the year 1995. Keeping the vision as quality education and motto Serve with love, Rev. Dr.Sr.Marlene commenced her mission with zeal and commitment. A pragmatic person with strong convictions, Dr.Sr.Marlene paved way for many laurels to the Institution starting with the commencement of M.Ed course in the year 2002, Accreditation of the College by NAAC in 2002, and Autonomous Status to the college in 2005. This period indeed proved a forward march for

St. Ann's College of Education

for it reflected a qualitative improvement in curriculum revision, new strategies, approaches and adopting challenges of the society locally and globally. During this period a series of seminars were organized both at National and International levels to storm the ideas of eminent educationists before moduling changes in the existing curriculum. There are quality circle Committees and Statutory Boards established for the smooth functioning of autonomy.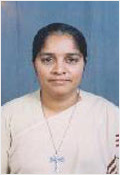 Dr. Sr. Marry Kutty P.J, Principal, St.Ann's College of Education (Autonomous), Secunderabad is a member of the Congregation of the Sisters of St. Ann since 1986. Sister worked as a teacher for about 13 years in the schools run by the Congregation in different states of India. Having given her best to the Congregation, a spiritually oriented person, Sister was encouraged to pursue higher education to equip herself in becoming an erudite academician. Sister pursued her Bachelor's and Master's in Education from her alma-mater.

Later Sister extended her services as a teacher educator in St.Ann's College of Education, for the past 09 years. Her enriched experiences as both a Teacher and Teacher Educator in the area of Methodology of Teaching English and Educational Psychology (B.Ed), Educational Administration, Advanced Educational Psychology, Special Education, Emerging Issues in Teacher Education (M.Ed) gave her ample insight into components Teacher behavior and motivated her to complete her doctoral research in the area of Teacher Competencies and co-authored a book titled Prospective Pedagogy

Dr.Sr.Marry Kutty was appointed as Principal of St. Ann's college of Education (Autonomous) from 16th August 2012.
Students and Faculty
St. Ann's College of Education is exclusively for women students. Eligibility is graduation, but many of them who undertake the course are post graduates. They are admitted into the college according to the percentage of seats allotted in each discipline by the Government. The current allotment is 30 percent for Social Studies Methodology, 25 percent for Biological Science, 30 percent for Mathematics and 15 percent for Physical Science. All the students are admitted on the basis of merit in the EdCET. Preference is given to the Minority Community students.

The teaching faculty consists of highly specialized subject teachers qualified according to the NCTE norms. Currently there are 15 teaching staff 9 with doctoral degrees, 2 with M.Phil, and others are Post Graduates with M.Ed. During the last three years 10 of our faculty members aquired Ph.d and two were awarded M.phil. degrees. The faculty upholds the Vision and Mission of the Institution and works with commitment for the cause of teacher education. A proactive approach is adopted in redefining the needs and redesigning the syllabus.

The college was given extension of Autonomous Status for a period of six years i.e. 2012-2013 to 2017-2018 including ex-post fact for the period 2011-12.
VISION: Our Vision is to scaffold students into becoming responsible teachers, dedicated to the holistic development of their pupils through Selfless Service to the Community
We envisage our graduates to
Imbibe right attitudes, values, ideals and ideologies.
Achieve academic excellence through hard work, critical thinking and effective decision making.
Facilitate learning among their pupils through appropriate skills and methodologies.
Exercise responsible leadership in the total formation of their pupils.
Render selfless service to the community.
Mission: Our Mission is to chisel our students into
Our mission is to strive to provide
Intellectually competent and Emotionally Enhanced
Socially Sensitive
Morally upright
Spiritually oriented
Loyal teacher-citizens of INDIA.
The motto of our College 'SERVE WITH LOVE' underlines the need for loving selfless service expected of every Teacher.

The College gives top priority to the values preached by Jesus Christ. Therefore, importance is given to spiritual and value education, directly and indirectly.

All the curricular and co-curricular programmes of the college are geared to achieve our vision and send out our student-teacher with a sense of mission.

The curriculum emphasizes academic excellence, mastery of needed skills, methods and the development of a creative and committed personality.